Sophia Grace From "Ellen" Hit Back At Rumors That She's Had Plastic Surgery And Detailed Her Anxiety
"I'm quite good at making my face look like maybe I have had surgery, even though I haven't," the 19-year-old said during a new, tell-all YouTube video.
If you've been on the internet long enough, you may have watched fan-favorite duo Sophia Grace and Rosie grow up before your very eyes.
The pair were just 8 and 5 years old, respectively, when they first appeared on The Ellen Show in 2011, performing their now-viral rendition of Nicki Minaj's smash hit "Superbass."
And this was only the very beginning of the cousins' child stardom, with Sophia Grace and Rosie not only going on to appear on the talk show several more times but also to attend a bunch of award shows, including the Grammys.
Fast forward to today, and the pair — who recently recreated their iconic Ellen debut on its 10-year anniversary — have embarked on various other endeavors, including YouTube vlogging, music, and the launch of Sophia Grace's fashion line, Lo Lo London.
Over the years, however, the duo have been faced with heaps of speculation surrounding almost every aspect of their lives — from the genuineness of their friendship, to rumors that they've had plastic surgery or body modifications.
So, taking to her YouTube channel last week, Sophia Grace sat down and addressed the gossip head-on.
Setting the record straight, the 19-year-old confirmed that she hasn't had "any plastic surgery" in response to a fan question that read: "At first, when I saw you on social media, I thought you had plastic surgery, do you?"
Sophia Grace said, "No, I don't have any plastic surgery. I've probably answered this quite a lot of times on my Instagram and on YouTube. So no, I haven't had any plastic surgery."
She went on to reveal that she's most often faced with rumors that she's altered her lips, which she firmly denied.
"I mean, I really don't think my lips look that big," she said. "Maybe I haven't underlined them as much as I usually do today. But I've never had lip fillers. I wouldn't be interested in getting lip fillers."
"If I do, you know, have lips that look quite plump and big sometimes, it's literally just makeup," she continued. "Makeup is very powerful and obviously I look very different without makeup to what I do with it, which most people do."
"I am quite good at makeup and I'm quite good at making my face look like maybe I have had surgery, even though I haven't," she added.
Sophia Grace went on to reveal that another common rumor she and Rosie face has to do with the state of their friendship.
Addressing a fan's assumption that she doesn't "really see Rosie," Sophia Grace noted that she's always faced with rumors that they're not "as close" anymore and "don't get along."
"Me and Rosie have always been really close," she said. "We've been like sisters literally since she was born."
"Obviously when me and Rosie used to be in America together filming The Ellen Show we would obviously be with each other like every single day," she said. "So yeah, we definitely [used] to see each other more."
"Now that we're older and we're slightly different ages, we do different things, we see different people," she went on. "So yeah, we definitely don't see each other as much as we used to."
However, Sophia Grace maintained that her and Rosie's bond is still as close as ever. "But it doesn't change how close we are and how much we care about each other," she said. "We'll always have the same bond, but yeah, when we were younger we definitely did see each other more."
Elsewhere in her YouTube video, Sophia Grace opened up about her experience with anxiety, revealing that she actually suffered a bout of severe panic attacks last year.
"I have general anxiety, I've experienced panic attacks before," she said. "I went through a stage last year I haven't talked about before, when I was taking a break from social media."
"I had this thing where I literally just woke up one day randomly, I was eating my dinner in the kitchen and I literally just started to get really breathless," she said.
"I literally felt like my world was ending," she recalled. "I felt like I was dying, I couldn't breathe."
Two weeks later, Sophia Grace detailed getting the same panic attacks every single day, which got so severe that she made her mom call an ambulance.
"It actually got so bad that I made my mom call an ambulance because I literally felt like my throat was closing up," she said.
"I went to hospital and they told me, 'You're fine, it's just anxiety,'" she added. "It really does show you how much anxiety can affect you and make you have real, physical symptoms."
Fans were quick to praise Sophia Grace for her raw and honest discussion of her experience. "I appreciate your honesty and realness," one viewer commented. "It's great that you spoke so openly about your anxiety."
"I'm so glad you made this video, especially the anxiety one," wrote another. "this helps so many people feel more comfortable with their individual mental health challenges in their lives."
68 Beauty Products That Work So Well, It's Almost Ridiculous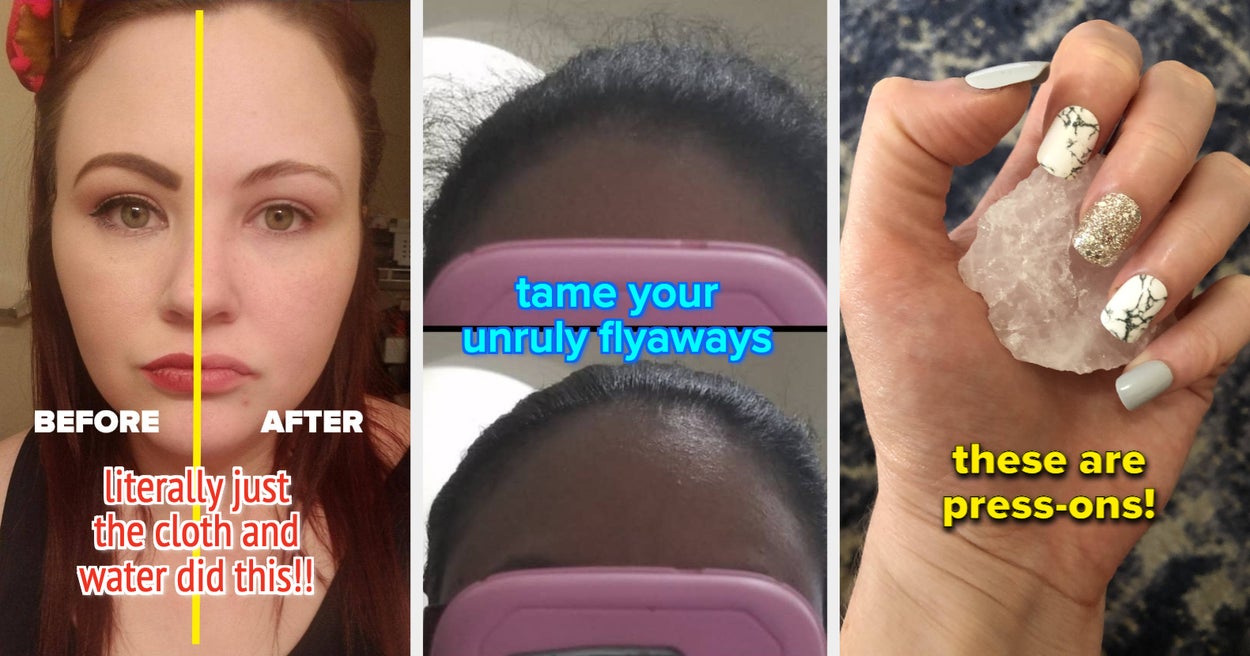 It can do a ton of other stuff, too, like reduce redness, soothe irritation, heal cuts, and reduce oil and inflammation.
Promising review: "I buy this when my other bottle is only half empty — that's how much I don't want to be without it. The smell is so good that even if it didn't work amazing wonders on my skin, I would use it just for that. But it does work! Because of this toner, my skin is brighter, more even, and just plain pretty. It feels moisturizing and clean, without giving your skin that tight feeling. I have pretty sensitive skin, but it doesn't burn at all. It tightens pores and helps with all skin needs, whether you break out a lot, are young or old, or have dry or combination skin — it's universal." —Gail Swearngin
Get it from Amazon for $9.49+ (available in eight scents).
32 Products That Are Worth Bringing On Your Trip *Just In Case*
Heads up — reviewers love these undies, but suggest sizing up!
Promising reviews: "I use it all the time, especially when traveling and overnight. It prevents leakage." —ruth
"I deal with PCOS and endometriosis, which make my periods HEAVY for the first three to four days. I ordered two pairs of these underwear. They absorbed better than a pad, were comfortable, and the top layer stayed dry. Amazing. I had been thinking about buying the really expensive version of these underwear, but the price was ridiculous. These underwear do exactly what I need them to do for half the price. They are easy to hand wash and hang dry. I plan on ordering more. The stitching and waistband are solid and they don't bunch, don't ride up, and don't roll. They provide front and back coverage. They're literally perfect. If you're on the fence about these, I urge you to give them a try. They'll save you money (no pads or tampons needed, and you won't stain your regular underwear and have to replace them)." —drsmaw
Get it from Amazon for $15.90+ (available in women's sizes 4–13, five colors, and in three-packs).
Reviewers Are Obsessed With These 33 Products Under $50 And We Refused To Gatekeep Them
This works on mosquitoes, bees, wasps, biting flies, sea lice (sea lice?!), and more!
Promising review: "These are great! I was in Mexico, being eaten alive by mosquitos and going crazy itching/trying not to scratch the bites. Ordered this tool, and my husband brought it with him when he joined me in MX and it immediately alleviated my problem. I used it as soon as I was bit and the itch just never happened. It even works on older much-scratched bites, though you may have to use it a few times in order for it to take all the itch out. I will say that there are a few places I found it difficult to use it on, the side of my wrist, a toe, etc. Yes, there is a smaller focus head, but it can be difficult to get it right over the spot as needed. I bought two and won't travel without one! The review process requires that you rate the longevity of this tool, I can't really speak to that as I haven't had it long. I worked perfectly for the week I used it though." —Raven Squire
Get it from Amazon for $9.95 (also available in seven colors and in packs of two or three).