#PrisonTok Is Getting New Attention After An Incarcerated Sex Offender's TikTok Account Blew Up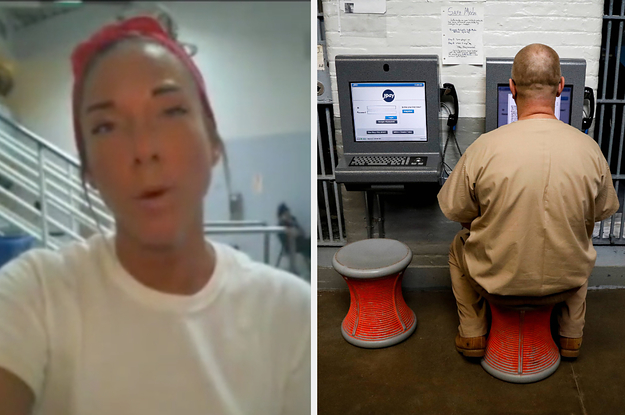 Fees vary, but at the South Idaho Correctional Institution, it costs two "stamps" to send or receive a videogram like the one Vanlith sent, with five stamps available for purchase for $2. That may not sound like much, but remember, even incarcerated people who are able to work while behind bars are paid very little.
Jesse Crosson, who served 19 years for robbery and shooting two people and now answers questions about prison life on his TikTok account @second_chancer, has railed against JPay in multiple videos. In one video entitled "Prison Profiteering," Crosson said he and his family each spent more than $20 a month on JPay email stamps — a huge fraction of the $54 per month he was earning in his prison job. His middle class family could help support him, but not everyone is so lucky. "The problem is someone is profiting off every phone call, every email, and every bar of soap sold, and that is disproportionately affecting those who have the least," Cronson said.
"[JPay] are just a small piece of the multi-billion dollar prison industrial complex in this country," Crosson said in another video.
A JPay spokesperson said they could not provide a full statement prior to publication. "We acknowledge the criticism we receive, but please also look at the positive pieces about our tablet program," spokesperson Jade Trombetta wrote in a brief email, sharing a link to a Yahoo piece about JPay's parent company, Aventiv Technologies.
Vanlith told the Statesman that she's received more than 500 new contacts since her videos blew up, but Idaho Department of Correction spokesperson Jeff Ray told the newspaper that people should think twice about becoming a prison pen pal.
"While many pen-pal-type relationships are well-intended," Ray said, "people who choose to engage in them — including those who are incarcerated — should be wary."
30 Transitional Dresses To Wear When It Feels Like It's Not Quite Winter But Not Quite Spring
Promising review: "I love this dress so much. The material is thick and soft. The fit is so classy and feminine. I love that it is a touch fitted around the waist. The neckline is the slightest bit low for me personally, but I don't think most people would mind, I just tend to be more conservative in that. And it's easy to adjust with either a tank or a pin. I will say, I tend to wear my clothes hard, and I did tear off the bottom button fairly quickly by standing up super fast. This has nothing to do with the quality of the dress, I just tend to rough my clothes up. I fixed it very easily by sewing a few stitches underneath the bottom button to prevent that from happening again. This is one piece I plan to keep forever. It will be perfect for any season. I'm planning to change out the buttons eventually if I get bored of them. The black is just lovely too." —Molly 
Get it from Quince for $49.90 (available in sizes XS–XL and five colors). 
27 Dresses You Can Wear With and Without Tights
FYI, this is included in Prime Wardrobe so you can give it a trial run if you're a member!
Promising review: "This dress did not disappoint! Due to my height and reading other reviews, I decided to go up a size. It fits loose on my body, giving it a baggier style which I wanted. It is slightly see-through with the tan color that I got, but because I was wearing black tights and a black cami, there was no issue. On my first day wearing it to work, I got at least four compliments on it. It's an appropriate length but also could be used for a date night outfit." —Amazon Customer
Get it from Amazon for $29.99+ (available in sizes S–XL and in 19 colors).
38 Organization Products From Amazon Our Readers Are Loving So Far In 2023
Shacke is a small business that specializes in packing organization essentials. 
Promising review: "I am officially sold on packing cubes!! These things are amazing! I can't believe I've been packing without them my whole life. The mesh lining allows you to peek inside, and I was able to pack all my clothes, shoes, and toiletries for a 10-day trip to Europe. I packed them as I normally would first, and then packed them in the packing cubes. There was SO much more room in my luggage after packing everything in the cubes! Items I fit in the cubes and bag include two jackets, one jean vest, four pants/capris, two pairs of shorts, one romper, four dresses, one maxi skirt, seven tank tops, four shirts, three camisoles, three pajama sets, 15 undies, six pairs of socks, and four pairs of shoes. But why are you still reading?? Go buy these cubes!" —Tiffany
Price: $21.99 (available in ten colors)