15 Famous People Who Had Wild Legal Battles With Their Parents Or Straight-Up Fired Them
Corey Feldman, star of The Goonies and Stand by Me, said, "I knew how to read a contract by 10 years old, but I didn't know what it meant for somebody to come in and tell me they loved me and kiss me goodnight."
1.
Beyoncé
In 2011, the pop star fired her father, Mathew, who'd been her manager for over 15 years. During an interview with Oprah, she said it was "one of the hardest things I've ever done." She shared that while she loved her father, taking this next step in her career was "a part of growth."
But career progression and self-growth might not have been the only reasons. The year before Beyoncé made the announcement, her father had a child with his mistress, Alexsandra Wright. Beyoncé's mom, Tina, finalized her divorce from Mathew in 2011.
Additionally, Live Nation reports claimed that Mathew "had stolen money from Beyoncé on her most recent tour or otherwise taken funds that [he] was not entitled to." Beyoncé ordered an audit that apparently confirmed Live Nation's findings, but her father denied the allegations.
2.
Leighton Meester
In 2001, the Gossip Girl actor sued her mother, Constance, for misuse of money. Leighton said she sent her mom $7,500/month to cover brother Alexander's medical expenses, but Constance spent that money on cosmetic procedures, including plastic surgery, Botox, and hair extensions. Leighton also said that her mother threatened to sue her if she didn't raise the monthly allowance to $10,000.
Constance filed a countersuit for $3 million claiming that she had "sacrificed her happiness" to support her daughter's career. She said that Leighton had broken several agreements, so she was owed the money. Constance also argued that Leighton's brother required 'round-the-clock care, and without Leighton's payments, there were "no funds to feed and care for Alexander."
Leighton filed a demurrer that shut down some of Constance's claims, including one that her mom was the victim of dependent adult financial abuse (meaning the traditional mother-daughter roles were flipped and Constance was financially dependent on Leighton). Constance ended up withdrawing her claims, and the judge ruled in Leighton's favor, ensuring Constance was not entitled to her daughter's money.
3.
Aaron Carter
In 2003, the singer accused his mother, Jane, of removing over $100,000 from his bank account without permission. He fired her as his manager and filed for emancipation at 16 years old. "I feel betrayed by own mother," he said in a statement. "I worked hard for months – 10/11 hours a day, not including school and press appearances – and I come home and owe money!"
A month later, he and his mother appeared to resolve the dispute as he chose not to pursue emancipation and reinstated her as a manager. However, in a 2019 episode of Marriage Boot Camp: Family Edition, Aaron was asked what he would tell his younger self. He responded, "I would tell you that you should've did it; you should have gotten emancipated."
4.
Rihanna
In 2019, the singer accused her father, Ronald, and his business partner of misrepresenting a company they started without her knowledge, Fenty Entertainment. According to the lawsuit, Ronald sent out a press release stating the company was created with his daughter and "used these lies in a fraudulent effort to solicit millions of dollars from unsuspecting third parties."
Rihanna said that Ronald tried to book her on a Latin America tour for $15 million and additional shows for $400,000. Apparently, Ronald also tried to register "Fenty" with the patent office, even though Rihanna has held multiple trademarks for it for years. In 2021, she dropped the lawsuit against her father.
5.
LeAnn Rimes
In 2000, the singer began a legal battle against her father, Wilbur, and former co-manager Lyle Walker, who worked with her dad. At 17 years old, she accused the men of stealing over $7 million over five years by duplicating management and producer fees, giving themselves no-interest loans, and paying themselves more in royalties than LeAnn herself. Both men denied the allegations, and Wilbur filed a countersuit against his daughter.
In 2001, LeAnn and Lyle Walker settled, though the suit against her father was not settled until the following year. The week before her wedding, the singer decided she wanted to repair her relationship with her dad. They settled the lawsuit and shared a traditional father-daughter dance at her wedding. "There's so much more life ahead of me. To carry on a burden of hating someone…it's just not worth it," LeAnn told ABC News.
6.
Macaulay Culkin
Growing up, the Home Alone actor was managed by his dad, Kit, who was known throughout Hollywood as an aggressive bully. On numerous occasions, Macaulay has spoken out about his father's physical and mental abuse.
When the child actor was 16, his parents separated and battled in court over custody of their seven children and Macaulay's money. "I had millions and millions of dollars in the bank, and my mother couldn't pay the rent because she was spending all of her money on lawyers," he told New York Magazine. "We were about to get evicted from our apartment. The only way I could get access to that money was to take my father's name off it, but I didn't want to make it messy, so I figured I'd take both their names off."
Kit never showed up to the final day of the trial, and Macaulay hasn't had any contact with his father since. In 2016, Kit told the Daily Mail, "I don't consider him a son anymore."
7.
Ariel Winter
When the Modern Family actor was 12 years old, the Department of Children and Family Services found evidence of physical and emotional abuse from her mother. Ariel's older sister took over as guardian, and two years later, they began a three-year legal battle against their mother for emancipation. Since Ariel achieved her independence, she has not had contact with her mother.
"It has been very sad for me, but at the same time, it's been much better for me emotionally and physically to be on my own and have a better, safer household and support system," she said on The Ellen DeGeneres Show. "At the end of the day, it was what I needed to do."
8.
Corey Feldman
At 14 years old, the Stand by Me actor asked about his career earnings and how much remained. He was told that he'd made about $1 million, but there was only $40,000 left. The following year, he was granted emancipation from his parents. However, his father demanded that last $40,000, and Corey paid it, putting him in debt at 15.
"Child stars have nothing," he told ABC News. "They have no choice… I was never taught how to have a family. I was never taught how to raise a child because I wasn't raised properly. I was never taught how to care for somebody because I was never shown genuine love. I knew how to read a contract by 10 years old, but I didn't know what it meant for somebody to come in and tell me they loved me and kiss me goodnight. That's a problem."
9.
Usher
The singer fired his mother, Jonetta, as his manager in 2007 – just a few months before he married Tameka Foster. In a statement, Usher said that he and his mom "support each other in our life's endeavors" but would resume a mother-son relationship "with no added pressure."
However, his mother famously refused to attend his wedding with Tameka, so rumors swirled over the real reason behind Usher firing Jonetta.
In 2008, Usher rehired Jonetta as his manager. The following year, he and Tameka divorced; not long after, he started dating Grace Miguel, who he would later marry. Grace soon replaced Jonetta as Usher's manager.
10.
Jena Malone
At 14 years old, the Hunger Games actor accused her mom of "squandering" over $1 million of her money through "excessive spending and mismanagement." Her mother allegedly drained her college fund and left Jena owing $20,000 in back taxes. The following year, Jena won emancipation from her mother.
Over the years, the two have worked on their relationship and become very close. When Jena became a single mom overnight, she moved in with her mother. "She helped and supported me through one of the hardest transitions I've ever been through," Jena wrote on Instagram. "And slowly but surely, she has become the best friend I have ever had. I'm in awe of what time allows us and what time teaches us. I'm in awe of the mother daughter bond that spans decades and lifetimes and waits for the perfect moment to bloom."
11.
Janet Jackson
Earlier this year, a four-part documentary dropped where she addressed her complicated relationship with her father, Joe. She revealed that she actually wanted to attend college and become an entertainment lawyer, but he forced her to become a singer once he realized her talent. He was initially in full control of her career and decided everything about her first album, from the cover to the songs.
"I wanted my own identity, but at that time, my father was in charge of my life, my career, and he was my manager," she said. "It's hard to say no to my father, so in order to do things the way I wanted to do, I guess he would have to be out of the picture…I wanted to go on my own." She ended up firing Joe before recording her second album, Control, which went on to become one of the most iconic and influential albums of the '80s.
12.
Drew Barrymore
Growing up, the actor had a complicated relationship with her mother, Jaid. After Drew became addicted to cocaine at 12 years old, her mom put her in rehab. A year later, Jaid committed her daughter to a mental institution. And the year after that, Drew was granted emancipation at just 14.
Last year, Drew opened up about how much their relationship has improved on The Howard Stern Show. "I felt so guilty denying my mom access to me. It felt like I was cutting off the source of life… Definitely the worst pain I've ever known. And I just thought, I have to let this go. What is this doing for either of us?" She shared that she has more empathy for Jaid now that she's a mother herself, and told Howard that "there is healing there. I feel goodness toward my mom."
13.
Mischa Barton
The actor, best known for her role on The O.C., sued her mother, Nuala, in 2015 for exploitation, fraud, bullying, and verbal abuse. She claimed that her mom lied about the actor's earnings so she could pocket the difference. She also alleged that Nuala used Mischa's name to create handbag and fashion lines without compensating her.
Additionally, the lawsuit claimed that Nuala persuaded her to buy a $7.8 million house in Beverly Hills as an investment, but her mom structured the purchase so she owned half of the property. Mischa claimed she was not even allowed at the expensive home, where her mom and dad lived. In 2016, the actor dismissed the suit.
14.
Gary Coleman
In 1989, the Diff'rent Strokes actor sued his manager and parents for misappropriating $3.8 million of his assets. His parents countersued and tried to place him in a conservatorship where they would control the personal, medical, and financial aspects of his life.
The following year, a judge ruled that Gary did "not come close" to the standard necessary for a conservatorship. Three years later, he won the lawsuit and nearly $1.3 million, much of which went to lawyer fees. He remained estranged from his parents until his death in 2010. His parents planned to take his body back to his boyhood home until they learned about his will that did not leave them anything.
15.
And finally, Kobe Bryant
In 2013, Kobe's parents, Joe and Pamela, tried to auction off some of their son's memorabilia, including high school uniforms and a pair of Lakers championship rings he gifted them. When Kobe found out, he filed a lawsuit against his parents and the company that was selling his belongings. The company sued Kobe back and said that Pamela was the owner of the items and that they had already given her an advance of $450,000 to buy a new house for her and Joe.
A settlement was reached that allowed less than 10% of the items to be auctioned. Joe and Pamela said in a statement, "We regret our actions and statements related to the Kobe Bryant auction memorabilia. We apologize for any misunderstanding and unintended pain we have caused our son and appreciate the financial support he has provided over the years."
Kobe did not speak with his parents for years. In 2016, he told ESPN, "Our relationship is shit. I say [to them], 'I'm going to buy you a very nice home,' and the response is 'That's not good enough?' Then you're selling my shit?"
Kobe was reportedly repairing his relationship with his parents soon before he died. Wayne Slappy, a former NBA coach, said he recently saw Kobe and Joe hug at a baseball camp in California. "I just remember being with him up at his camp in Santa Barbara and seeing him hug his dad," Wayne said. "You know how they loved each other from how they looked at each other, how they smiled."
Know any other celebrities who fired their parents or had intense legal drama with them? Let me know in the comments below!
32 Beginner-Friendly Skincare Staples To Add To Your Routine
Tower 28 is an LA-based small clean beauty brand specializing in nontoxic, nonirritating vegan and cruelty-free makeup and skincare. Amy Liu, the founder and CEO, worked for 15+ years as a beauty exec before leaving to create products that would suit her sensitive eczema-prone skin.
Full disclosure: Many reviewers say the SOS spray's scent isn't super pleasant (think: chlorinated pool water) BUT it has helped them with hormonal breakouts and rosacea.
Promising review: "This is a holy grail product. I swear I have glass skin now thanks to this spray. My texture, pores, skin tone, hydration, everything seems better. I love how it looks, how it smells, and especially how happy it makes my skin. I'll be buying this for the rest of my life. I've already repurchased it twice. Worth the hype." —CBTarker
Get it from Sephora (available in two sizes) or Tower 28 for $12+ (available in three sizes).
Say Hello To 30 TikTok Walmart Products You'll Soon Be Adding To Your Cart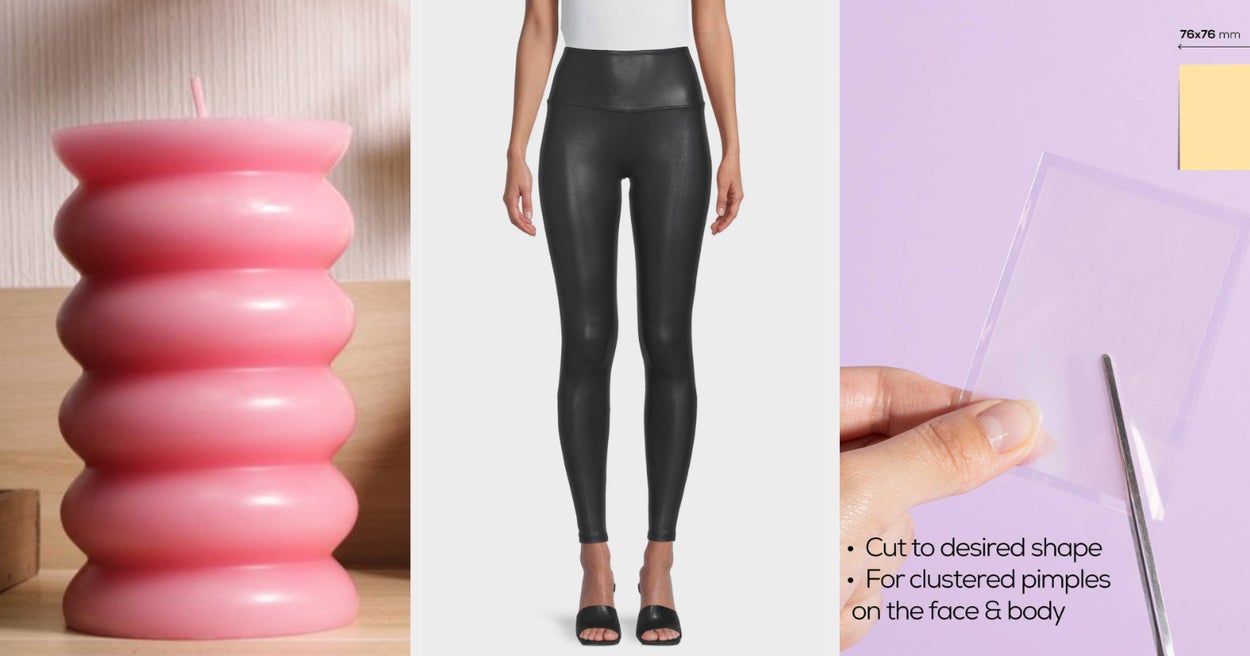 This set includes an 8-inch sauté pan, 9-inch deep sauté pan, 11-inch griddle, 1-quart sauce pan with lid, 2-quart sauce pan with lid, 3-quart sauce pan with lid, 4-quart Dutch oven with lid (4-quart lid fits the 9-inch deep sauté pan), stainless steel fold-up steamer, solid spoon, slotted spoon, solid turner, slotted turner, pasta spoon, and ladle. Check out the pot and pan set here on TikTok.
Promising review: "What a great set! It has the right sizes for everyday cooking and can always be added to down the road. I purchased this set as a surprise housewarming gift for my granddaughter, and she has already thrown out her old set! She is completely satisfied with her cooking results and easy cleanup. I will be purchasing another set soon for my daughter!" —ConAlma
Price: $44.97 (originally $49.97; available in two colors)
25 Target Parenting Products With Reviews That'll Have You Clicking "Add To Cart"
Promising review: "We bought this, along with the full-sized potty chair for training. Used this one initially as our 'on the go' potty and kept it in the back of the car for when we needed a potty break while out and about. Now that we are past that initial stage, we use it as a secondary potty in the play area, for when he has to go suddenly. Easy to clean, simple, love it." —Cholder
Price: $24.99 (available in three colors)