14 Movie Trailers That Straight-Up Lied To Audiences
Movie studios sure love doing the ol' bait and switch.
I assume it's pretty difficult to market a movie. You have to create trailers that give just enough away to pique audiences' interest, but not give too much away as to spoil the movie. And, of course, you have to accurately represent the film, right?
Well sometimes in order to reach a broader audience and make the most amount of money, production companies just completely forget about that last one, and make trailers that are just…wrong.
Sometimes, they create trailers that suggest a movie is an entirely different genre or has an entirely different tone. Or, they take out-of-context scenes or quotes and form a false narrative. Or, even worse, they shoot new scenes just for the trailer, all while having no intention of putting them in the movie.
This happens pretty often, and with some big movies too. Here are 14 examples of movies with very misleading trailers:
1.
Edge of Tomorrow (2014)
2.
Jennifer's Body (2009)
3.
Drive (2011)
4.
Eternal Sunshine of the Spotless Mind (2004)
5.
Bridge to Terabithia (2007)
6.
Fast Times at Ridgemont High (1982)
7.
Kangaroo Jack (2003)
8.
Catfish (2010)
9.
Red Eye (2005)
10.
Sweeney Todd: The Demon Barber of Fleet Street (2006)
11.
Black Christmas (2006)
12.
Predators (2010)
13.
Fantastic Four (2015)
14.
Ferris Bueller's Day Off (1986)
Have you ever been misled by a movie trailer? If so, which one? Let us know in the comments!
The Man Suing Gwyneth Paltrow Over A Ski Crash Said She Hit Him From Behind, But Her Ski Instructor Said That Would Have Been "Impossible"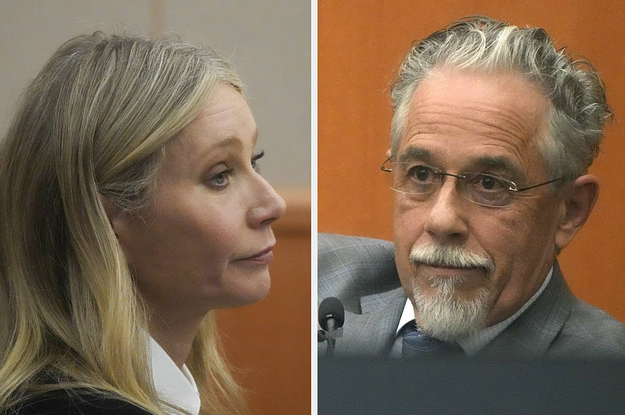 While on the witness stand, Sanderson testified that he was skiing down the right side of the run when he heard "a blood-curdling scream."
"It was ahhh and then boom," Sanderson said, smacking his hands together. "It was like somebody was out of control and going to hit a tree and was going to die."
He said he then felt someone crash into his back sending him "absolutely flying."
"All I saw was a whole lot of snow," Sanderson said. "It's quite a ways to hit the ground and I just said, OK, you got to protect your face and your head, and that's the last thing I remember."
He testified that he didn't remember if he hit his head on the ground, saying that "everything" went black and all he could hear was the voice of a man who sounded angry with him. At first, Sanderson said he couldn't make out what the man was saying but then heard the person tell him "you hit somebody, you hurt somebody."
"Did you know who he was?" his attorney Kristin VanOrman asked.
"I had no idea," Sanderson said. "It was just a very angry person bullying me into believing something that I didn't think could happen."
He said he remembered apologizing "to placate this guy" and said he was sorry twice. In his head, it sounded like he was whispering, Sanderson testified, saying that his lips were moving to make out, "I'm sorry," but he couldn't hear the words coming out of his mouth.
Paltrow testified last week that she cussed Sanderson out after she said he crashed into her back, causing the two to fall to the ground. On Monday, Sanderson testified that he didn't hear her voice at all.
"I only heard a male voice," he said. "I heard nothing that maybe happened before I came to that point in consciousness."
Drew Barrymore Opened Up To Gayle King About Her Experience With Perimenopause In Her 40s, And It's Such An Important Conversation For All Women
So, if you've found yourself experiencing symptoms that feel in-line with perimenopause, what can you do? "First," says Dr. Mbaye, "exercising regularly and not smoking are two of the best things you can do on your own that will help manage symptoms. Beyond that, there are lots of hormonal and non-hormonal medical treatments that can manage a range of symptoms."
Therapy is also an important tool, emphasizes Dr. Mbaye, especially for people who have more significant mood changes during this phase. Dr. Mbaye also shared that "if your symptoms are bothersome to you, bring them up to your doctor so they can then go through the options that are safe for your specific case." She continued, "All perimenopausal symptoms are treatable if they're bothersome, but they don't need to be treated. It's always up to the patient whether or not they feel the need to treat anything."
Tennessee Gov. Bill Lee Is Praying For School Shooting Victims One Year After He Chose Not To Support New Gun Regulations
Lee's prayers come roughly nine months after he announced he did not support restricting firearms or stronger gun control laws, according to the Associated Press. After 19 kids and two teachers were killed in Uvalde, Texas, in May 2022, Lee told reporters that his focus was on security at schools.
In June 2022, he signed an executive order, along with other Republican governors, calling for enhanced school safety measures, but the executive order didn't mention "guns" once. Lee didn't immediately respond to BuzzFeed News' request for comment.
The executive order noted that Tennessee had invested more than $100 million "to support improvements in school safety, hiring of school resource officers, and building security."
"We're not looking at gun restriction laws in my administration right now. There's one thing to remember, criminals don't follow the laws. Criminals break laws," Lee said, according to the AP. "We can't control what we can't control."
Lee wasn't the only state official to mention prayer after the mass shooting on Monday. David Rausch, director of the Tennessee Bureau of Investigation, told reporters he sent his "heartfelt prayers" to the community.
"Now I know there will be people who want to criticize us for prayers, but that's the way we do that in the South, right," Rausch said. "We believe in prayer and we believe in the power of prayer, & so our prayers go out to these families."
When contacted by BuzzFeed News, a spokesperson for Rausch said he had nothing to add.