"No other vegetable is so content to abandon itself to your will," Ruth Reichl wrote of eggplant in her 2015 cookbook, "My Kitchen Year." Though if you're skeptical, here's one way to quickly gain some confidence: Start with her simple eggplant salad, which I've made so many times since first reading about it I've lost track.
Use a fork to prick the eggplant, then singe it right on the flame of a gas stove, or under the broiler, until the skin is charred and the meat is tender — don't baby it now, really let it smolder! Be patient — eggplant is firm and spongy when undercooked, but give it a little more time and it shifts over to tender, luxurious and creamy.
Peel away the burned skin, and mash the soft eggplant meat into a bowl. In Ruth's recipe, she adds fish sauce (you can use a vegetarian fish sauce), lime juice, a pinch of sugar, garlic and chile, and once it's chilled, covers it with herbs. But this technique of submitting the eggplant whole to a flame, then skinning it, is a great way to start any number of dishes.
Try seasoning with sesame oil, rice vinegar, raw chiles and cilantro. Or chopped tomatoes, red wine vinegar, capers, garlic and parsley. Add tahini, lemon juice and zest, and garlic. Once you can confidently sear a whole eggplant, you can certainly sauté, roast or even steam it.
Sautéed
Hetty McKinnon's new vegan version of dan dan noodles is delicious, with eggplant dusted with Sichuan pepper standing in for the usual meaty topping. To make it, you sauté pieces of eggplant with a little oil and soy sauce and cover the pan, but keep it moving every minute or so to get even tenderness and color. I made it on Monday and loved the dish so much, that when eggplant isn't in season, I'll make it again with mushrooms, frozen spinach, fresh bok choy, shredded cabbage or just a big pile of sliced raw cucumbers.
Glazed
This is one of those irresistible dishes from Eric Kim that I bring up really often here because, well, it's just that good! Eric fries scallions to make the garnish as well as the deeply flavored scallion oil for stir-frying the eggplant. That oil is key, but so is the final step of glazing the eggplant with a little seasoned gochujang that sticks to each piece and caramelizes in the hot pan. Tip: Pair cold leftovers the next day with a rich, buttery cracker for a no-nonsense cocktail snack that's reminiscent of smoked oysters on crackers.
Charred
In David Tanis's recipe for a Turkish-style eggplant salad, you char the whole vegetable over charcoal, on a gas flame or under a broiler, then peel away the burned skin. Simply add garlic, lemon, yogurt and mint to the warm, roughly chopped eggplant, along with a glug of olive oil. It's perfect with warm pita bread and crudités. Note: Pomegranate molasses, made from boiling down the tart juice, is a wonderful addition, but it's fine to skip it and compensate with more lemon juice instead.
Roasted
You can peel and chop a big haul of fresh tomatoes to make David Tanis's pasta alla Norma — a great use for any of the lumpy, bruised, on-sale tomatoes you sometimes find at the market — but good quality canned tomatoes work well, too. And here's a great hack if you're not in the mood to stand and fry in batches: Dice the eggplant, toss with oil and roast at 400 degrees for about 20 minutes before adding it back to the sauce.
Steamed
Round, baby eggplants, which you can often find at South Asian grocery stores, fit neatly in your hand. They're the perfect shape for this Gujarati recipe from Niven Patel, in which you split the vegetable open crosswise, pulling it apart like a flower so you can fill it with a spicy mash of peanuts seasoned with garlic, ginger and chiles. Once stuffed, the eggplants steam together in a little water until they're tender, but still totally intact — an extremely simple but rewarding technique.
One More Thing
I love to buy baby Indian eggplants, as well as long, slender varieties of Chinese, Japanese and Korean eggplants most often, in part because so many of them are thin-skinned, lower in water content, and grown locally where I shop. Regardless of the variety you're after, try to pick the firm, heavy-for-their-size eggplant that have tight, shiny skins.
Thanks for reading The Veggie, and see you next week!
---
Get in touch
Email me at [email protected]. Newsletters will be archived here. Reach out to my colleagues at [email protected] if you have questions about access or your account.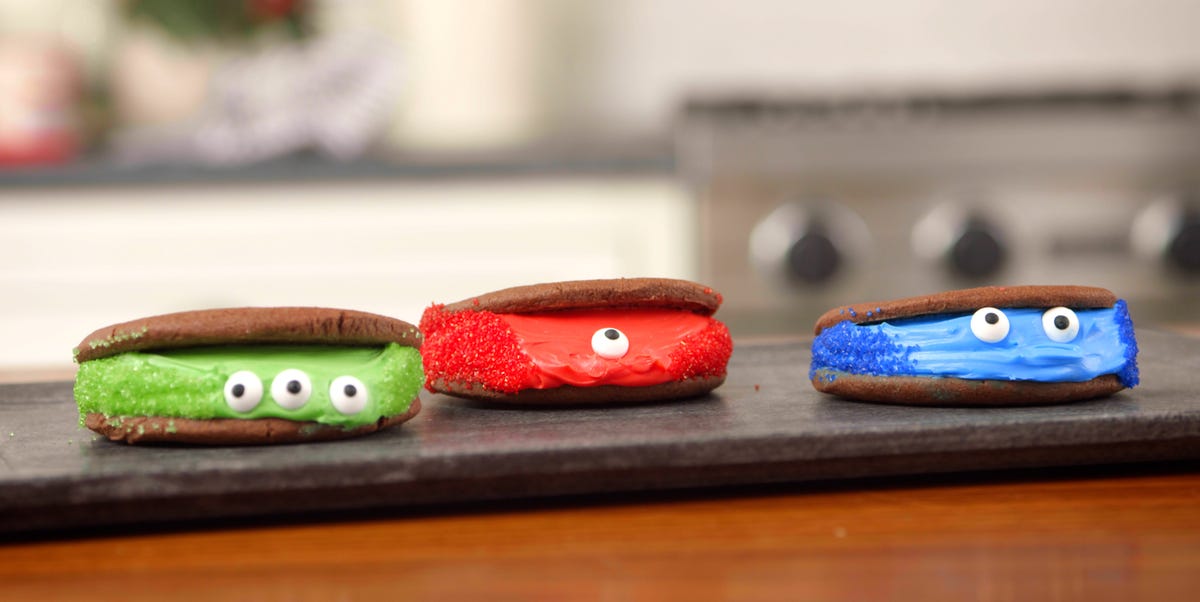 No Halloween celebration is complete without these cute-and-creepy monster cookies. Made with a simple
Betty Crocker™ Sugar Cookie dough and flavored with cocoa powder, these crisp cookies are delicious all on their own. And once sandwiched together with tinted Betty Crocker™ Rich & Creamy Vanilla Frosting and decorated with sanding sugar and candy eyeballs, they're downright irresistible.
Advertisement – Continue Reading Below
Yields:

12

Prep Time:

30 mins

Total Time:

40

mins
Ingredients
1

(17.5-oz.) package Betty Crocker™ Sugar Cookie Mix

1/3 c.

plus 2 tbsp. unsweetened cocoa powder

2 tbsp.

powdered sugar

1/2 c.

(1 stick) unsalted butter, softened

1

large egg

1

(16-oz.) can Betty Crocker™ Rich & Creamy Vanilla Frosting

Blue, red, and green food coloring, Betty Crocker™ Candy Eyeballs, and Betty Crocker™ 4-Cell Sugars, for decorating
Directions
Step 

1




Line a baking sheet with parchment. In a large bowl, whisk Betty Crocker™ Sugar Cookie Mix, cocoa powder, and powdered sugar. Add butter and egg and mix with a wooden spoon or electric mixer until a dough forms and no dry spots remain. It will seem dry at first, but keep mixing and it will come together.

Step 

2

On a large cutting board, roll dough until 1/8″ to 1/4″ thick. Using a 3″ round cookie cutter, cut out as many rounds as possible. Do not remove rounds from cut dough. Refrigerate dough 20 minutes before peeling away scraps. Reroll scraps to cut out more rounds.

Step 

3

Preheat oven to 350º. Arrange rounds on prepared sheet, spacing 1″ to 2″ apart.

Step 

4

Bake cookies until centers are set and edges are crisp, about 10 minutes. Let cool completely.

Step 

5

Separate Betty Crocker™ Rich & Creamy Vanilla Frosting into 3 bowls, then color with blue, red, and green food coloring.

Step 

6

Place a generous spoonful of green frosting on bottom of a cookie. Top with another cookie, angling the edge upward to push some frosting out like a bubble. Place 1 to 3 Betty Crocker™ Candy Eyeballs into widest part of frosting. Holding the cookie, spoon or sprinkle green Betty Crocker™ decorating sugar over frosting. Repeat with other frosting colors and matching sugars. Refrigerate leftover cookies.
16 Best Ravioli Recipes To Satisfy That Stuffed Pasta Craving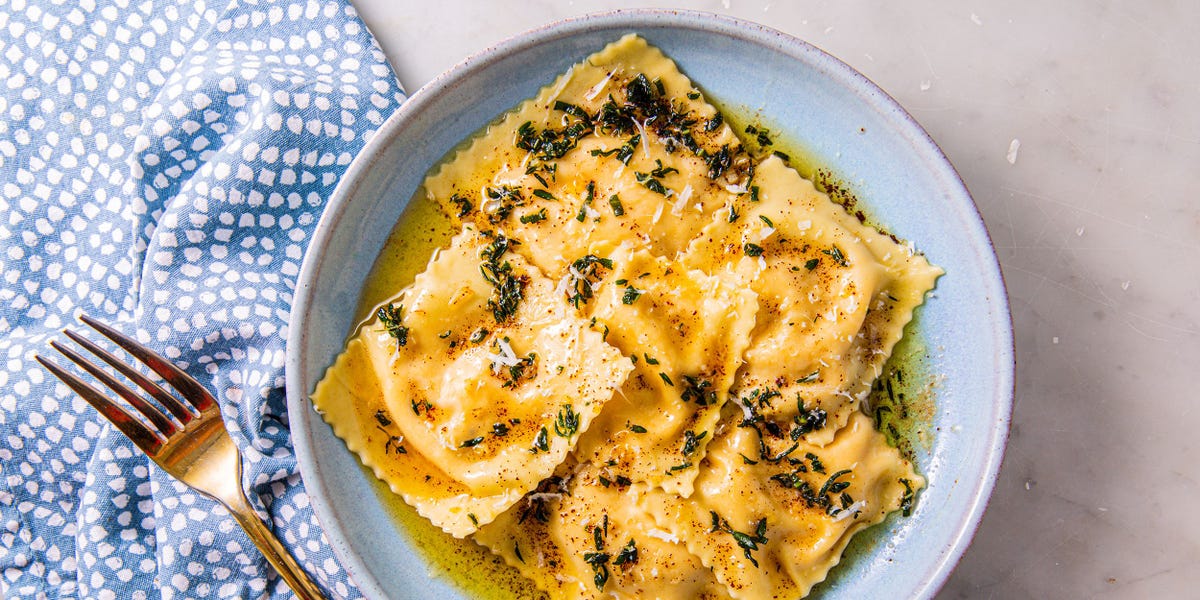 Toasted Ravioli
We're obsessed with ravioli, but most of the time we admit that the four pieces you get as a serving aren't filling enough. That's why it makes the perfect app. Breaded and fried, it's so fun to eat ravioli with your hands and dipping it in plenty of marinara. Bonus! Toasted ravioli works in the air fryer too, meaning you can skip all of the oil for an even more perfect appetizer.
Get the Toasted Ravioli recipe.
Bourbon, Bacon, And Blue Cheese Steak Sliders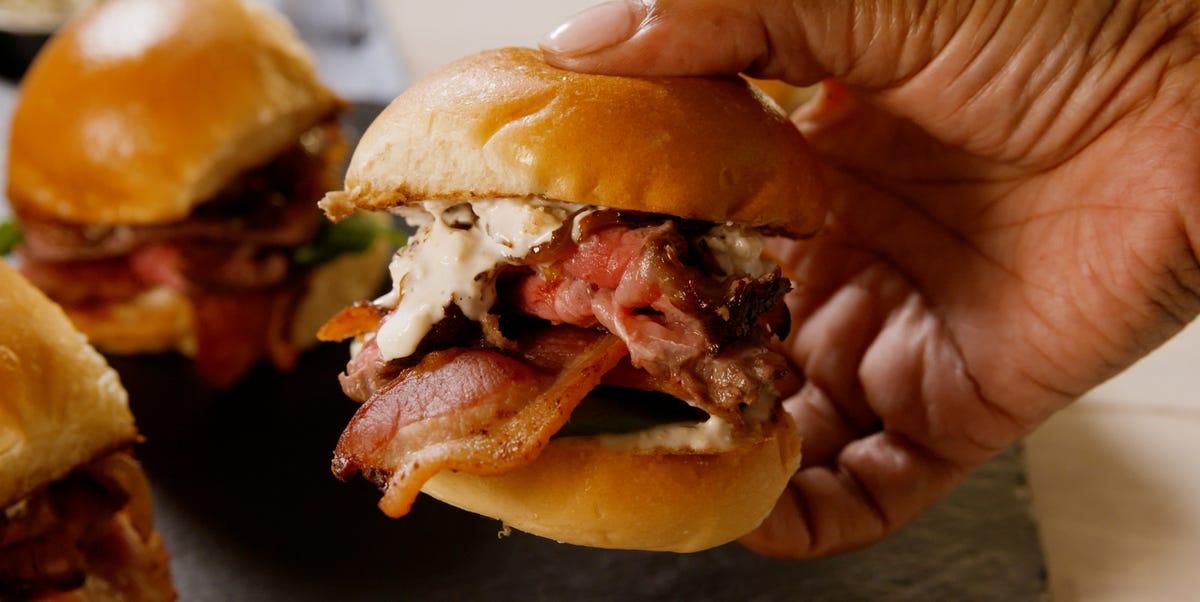 If you picture miniature cheeseburgers when you hear "sliders," allow us to introduce you to the ultimate upgrade. With a creamy Treasure Cave® Crumbled Blue Cheese-based spread, juicy slices of New York strip steak, and bourbon-glazed caramelized onions, this decidedly adult slider is guaranteed to please. Serve a couple along with some sides as a celebratory dinner, or let a tray make the rounds at your next party. No ketchup or mustard needed!
Advertisement – Continue Reading Below
Yields:

12

Prep Time:

1

hour

0

min

Total Time:

1

hour

10

min
Ingredients
1

(1 lb.) New York strip steak, about 1¼" thick

Kosher salt

1/3 c.

mayonnaise

2/3 c.

(about 4 oz.) Treasure Cave® Crumbled Blue Cheese, plus additional for serving

Zest of 1 lemon, plus 1 tbsp. fresh lemon juice

Freshly ground black pepper

6

pieces (about 6 oz.) thick-cut bacon

1

large yellow or white onion, peeled and thinly sliced

1/3 c.

bourbon

Extra-virgin olive oil

12

brioche slider buns

Unsalted butter, for toasting buns

12

large basil leaves
Directions
Step 

1

Place steak on a plate and season generously on all sides with salt. Some salt will come off when you pat the steak dry later, so don't be shy–season with gusto. Let steak come to room temperature as you prepare components for sliders.

Step 

2

In a medium bowl, combine mayonnaise, ⅔ cup Treasure Cave® Crumbled Blue Cheese, lemon zest, and lemon juice. Stir to combine and season with salt and pepper. Transfer to refrigerator until ready to serve.

Step 

3

Place a large cast iron skillet over medium-high heat. Add bacon and cook, flipping occasionally, until slices are crisp and golden, about 12 to 15 minutes. Transfer to a paper towel-lined plate to drain.

Step 

4

Remove all but 2 tablespoons bacon fat from pan, reserving any remaining fat for searing steak. Add onions, season with salt and pepper, and cook, stirring occasionally, until golden on the edges and starting to caramelize, about 12 to 15 minutes. Reduce heat if necessary to prevent burning. Add bourbon and stir to deglaze bottom of pan until nearly evaporated, about 30 seconds. Transfer onions to a bowl until ready to assemble sliders.

Step 

5

Wipe out skillet and place over medium-high heat. Add 2 tablespoons reserved bacon fat, using olive oil as necessary if not enough bacon fat remains. When fat just begins to smoke, add steak. Sear until well caramelized and crusty on the underside, about 6 to 8 minutes. Flip, and continue cooking until steak is golden, about 4 to 6 minutes more; an instant-read thermometer stuck into the middle of steak should read 125° to 130° for medium-rare. Using a pair of tongs, hold one side of steak to the surface of the skillet, rolling back and forth as necessary to brown, about 1 ½ minutes. Repeat with the second side of steak.

Step 

6

Remove steak to a rack and let rest to allow juices to redistribute, 10 minutes. (If you prefer your steak room temperature, let rest up to 30 minutes.) Thinly slice against the grain. Taste a slice and season to taste with additional salt and pepper if necessary.

Step 

7

As steak rests, toast slider buns: Split buns in half. Place cast iron skillet back on the burner over medium-high heat. Add 1 tablespoon butter. When melted, add as many buns will fit, cut sides down. Toast until lightly golden, about 1 to 2 minutes. Repeat with remaining buns, replenishing butter as necessary between batches.

Step 

8

Assemble sliders: Spread blue cheese mixture on both sides of the slider buns. Add a basil leaf to the bottom halves of the buns. Break the bacon slices in half and divide among the buns, along with the steak, caramelized onions, and additional Treasure Cave® Crumbled Blue Cheese. Using toothpicks, finish each slider with a bun top and serve.