30 Mini Desserts That Are Tiny In Size, But Big On Flavor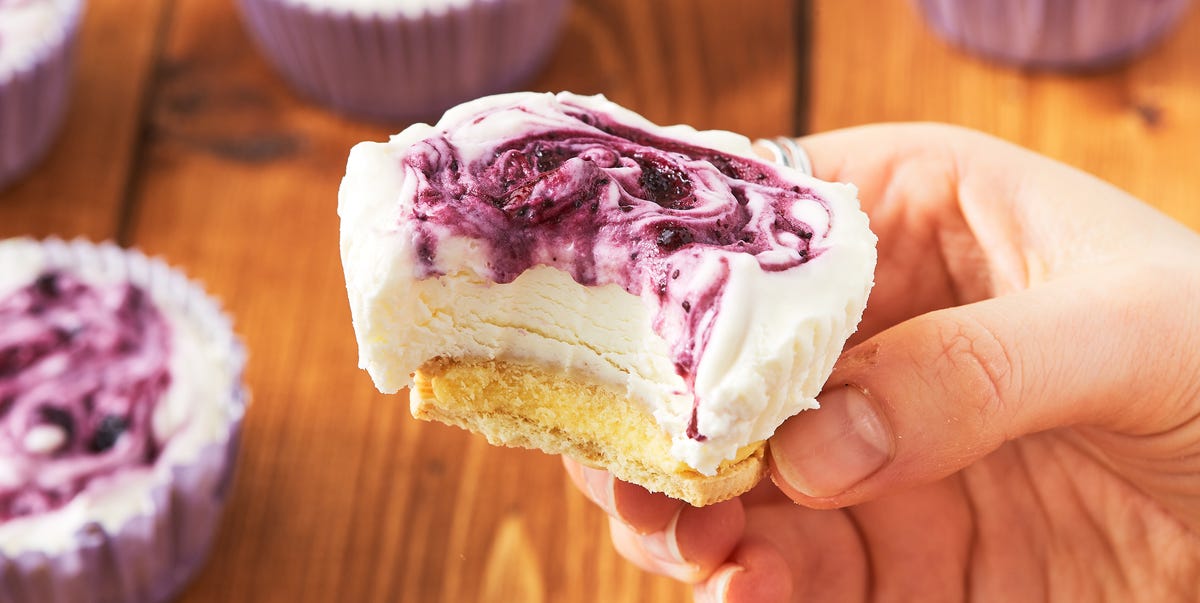 We can all agree, dessert is one of life's greatest joys. Cookies, cakes, pies… we truly love it all! We can only think of one way to love dessert more, and that's to make it smaller so we can eat twice as much. Whether you're looking to do the same, are looking for kid-sized desserts, or are looking for ways to celebrate on a smaller scale, we've got a recipe for you. Check out our 30 mini desserts for ideas—they're small, but mighty!
We're big bakers here at Delish, but even the best of us will admit to being overwhelmed sometimes at the prospect of embarking on a big baking project. You've really got to be in the right mood, and be willing to expect things not turning out exactly as planned—sometimes we just don't have it in us! We love turning to these mini desserts to hit all those sweet cravings, without all the drama. Love pie, but hate rolling out the pie crust, crimping the edges, and latticing the top? Try our chocolate-covered key lime pie bites, our apple cutie pies, or our peach pie pops instead. Want to celebrate with layer cake, but worried yours will come out more baking fail than win? Check out our mini Boston cream pies (traditionally more cake than pie, and here we eliminate it all and use Nilla wafers), our mini Easter cakes (cute enough for year-round), or our mini chocolate raspberry cake. They're sure to make even small celebrations feel extra sweet. Big cheesecake fan, but scared of the water bath? (Us too!). Check out our cheesecake cupcakes, our lemon-blueberry mini cheesecakes, or our mini death by chocolate cheesecakes. Eat one, or five! Your sweet tooth will thank you.
Want even more easy dessert inspiration? Check out our icebox cake recipes and our no-bake desserts too.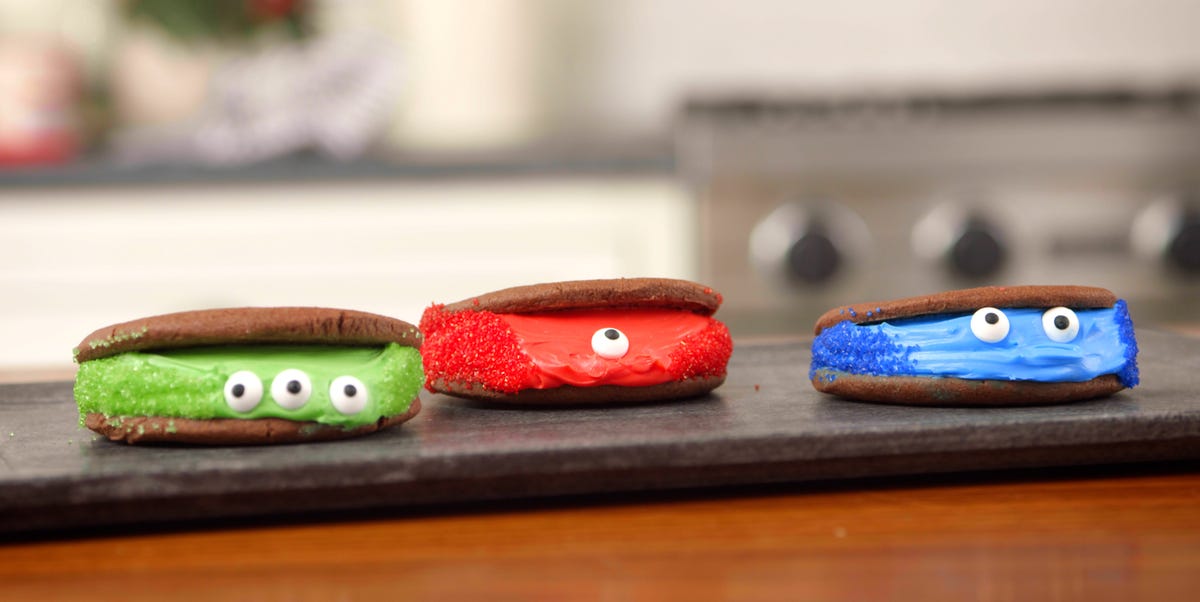 No Halloween celebration is complete without these cute-and-creepy monster cookies. Made with a simple
Betty Crocker™ Sugar Cookie dough and flavored with cocoa powder, these crisp cookies are delicious all on their own. And once sandwiched together with tinted Betty Crocker™ Rich & Creamy Vanilla Frosting and decorated with sanding sugar and candy eyeballs, they're downright irresistible.
Advertisement – Continue Reading Below
Yields:

12

Prep Time:

30 mins

Total Time:

40

mins
Ingredients
1

(17.5-oz.) package Betty Crocker™ Sugar Cookie Mix

1/3 c.

plus 2 tbsp. unsweetened cocoa powder

2 tbsp.

powdered sugar

1/2 c.

(1 stick) unsalted butter, softened

1

large egg

1

(16-oz.) can Betty Crocker™ Rich & Creamy Vanilla Frosting

Blue, red, and green food coloring, Betty Crocker™ Candy Eyeballs, and Betty Crocker™ 4-Cell Sugars, for decorating
Directions
Step 

1




Line a baking sheet with parchment. In a large bowl, whisk Betty Crocker™ Sugar Cookie Mix, cocoa powder, and powdered sugar. Add butter and egg and mix with a wooden spoon or electric mixer until a dough forms and no dry spots remain. It will seem dry at first, but keep mixing and it will come together.

Step 

2

On a large cutting board, roll dough until 1/8″ to 1/4″ thick. Using a 3″ round cookie cutter, cut out as many rounds as possible. Do not remove rounds from cut dough. Refrigerate dough 20 minutes before peeling away scraps. Reroll scraps to cut out more rounds.

Step 

3

Preheat oven to 350º. Arrange rounds on prepared sheet, spacing 1″ to 2″ apart.

Step 

4

Bake cookies until centers are set and edges are crisp, about 10 minutes. Let cool completely.

Step 

5

Separate Betty Crocker™ Rich & Creamy Vanilla Frosting into 3 bowls, then color with blue, red, and green food coloring.

Step 

6

Place a generous spoonful of green frosting on bottom of a cookie. Top with another cookie, angling the edge upward to push some frosting out like a bubble. Place 1 to 3 Betty Crocker™ Candy Eyeballs into widest part of frosting. Holding the cookie, spoon or sprinkle green Betty Crocker™ decorating sugar over frosting. Repeat with other frosting colors and matching sugars. Refrigerate leftover cookies.
16 Best Ravioli Recipes To Satisfy That Stuffed Pasta Craving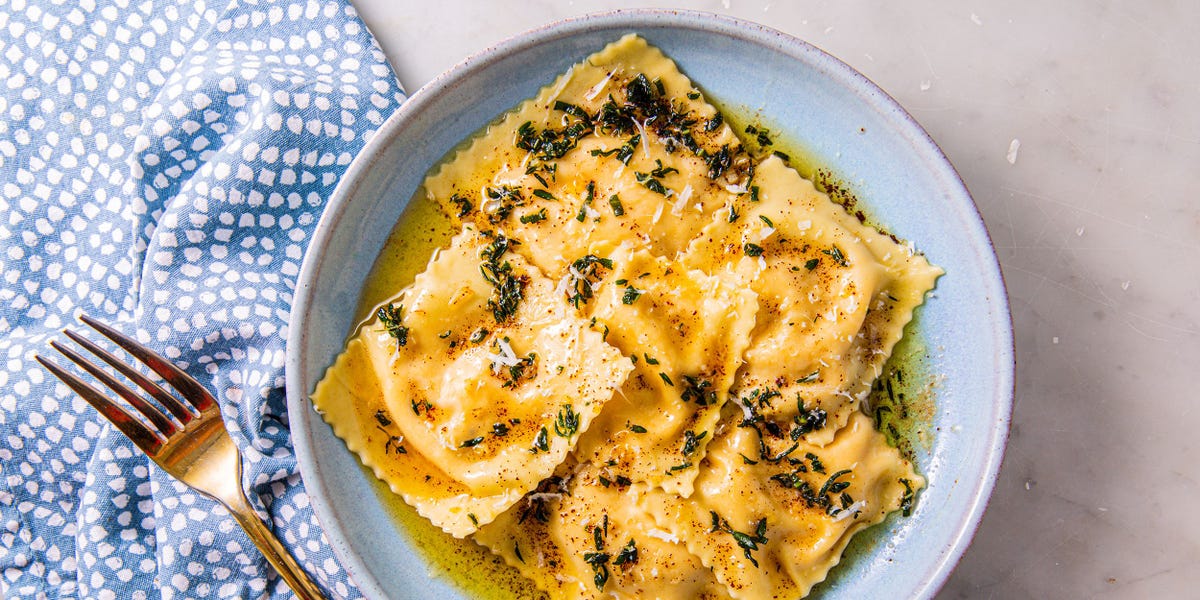 Toasted Ravioli
We're obsessed with ravioli, but most of the time we admit that the four pieces you get as a serving aren't filling enough. That's why it makes the perfect app. Breaded and fried, it's so fun to eat ravioli with your hands and dipping it in plenty of marinara. Bonus! Toasted ravioli works in the air fryer too, meaning you can skip all of the oil for an even more perfect appetizer.
Get the Toasted Ravioli recipe.
Bourbon, Bacon, And Blue Cheese Steak Sliders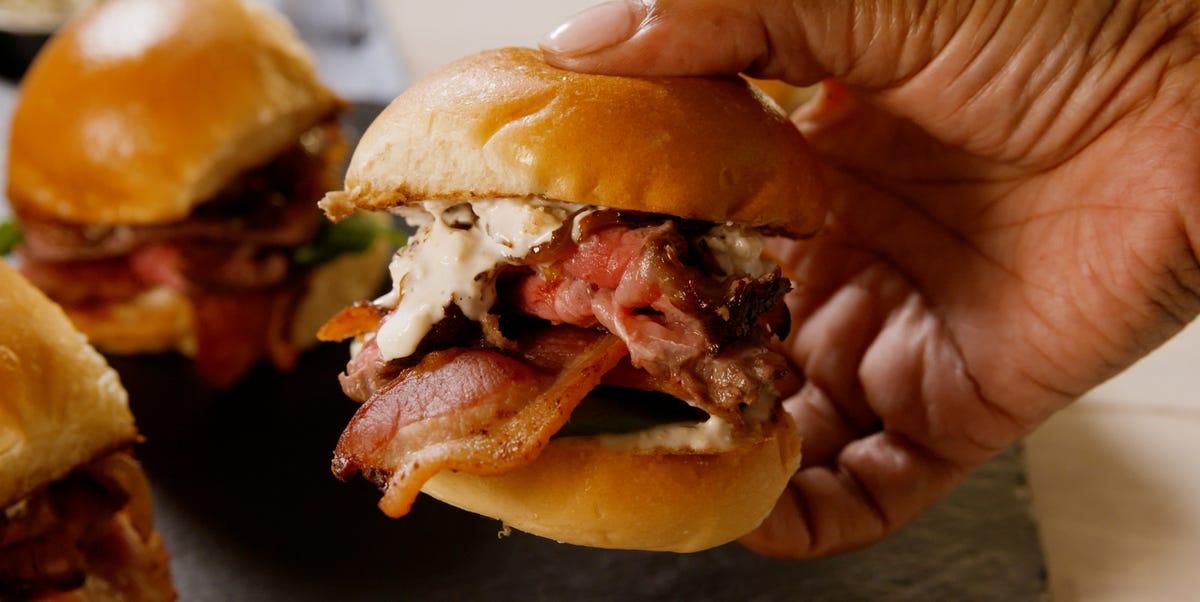 If you picture miniature cheeseburgers when you hear "sliders," allow us to introduce you to the ultimate upgrade. With a creamy Treasure Cave® Crumbled Blue Cheese-based spread, juicy slices of New York strip steak, and bourbon-glazed caramelized onions, this decidedly adult slider is guaranteed to please. Serve a couple along with some sides as a celebratory dinner, or let a tray make the rounds at your next party. No ketchup or mustard needed!
Advertisement – Continue Reading Below
Yields:

12

Prep Time:

1

hour

0

min

Total Time:

1

hour

10

min
Ingredients
1

(1 lb.) New York strip steak, about 1¼" thick

Kosher salt

1/3 c.

mayonnaise

2/3 c.

(about 4 oz.) Treasure Cave® Crumbled Blue Cheese, plus additional for serving

Zest of 1 lemon, plus 1 tbsp. fresh lemon juice

Freshly ground black pepper

6

pieces (about 6 oz.) thick-cut bacon

1

large yellow or white onion, peeled and thinly sliced

1/3 c.

bourbon

Extra-virgin olive oil

12

brioche slider buns

Unsalted butter, for toasting buns

12

large basil leaves
Directions
Step 

1

Place steak on a plate and season generously on all sides with salt. Some salt will come off when you pat the steak dry later, so don't be shy–season with gusto. Let steak come to room temperature as you prepare components for sliders.

Step 

2

In a medium bowl, combine mayonnaise, ⅔ cup Treasure Cave® Crumbled Blue Cheese, lemon zest, and lemon juice. Stir to combine and season with salt and pepper. Transfer to refrigerator until ready to serve.

Step 

3

Place a large cast iron skillet over medium-high heat. Add bacon and cook, flipping occasionally, until slices are crisp and golden, about 12 to 15 minutes. Transfer to a paper towel-lined plate to drain.

Step 

4

Remove all but 2 tablespoons bacon fat from pan, reserving any remaining fat for searing steak. Add onions, season with salt and pepper, and cook, stirring occasionally, until golden on the edges and starting to caramelize, about 12 to 15 minutes. Reduce heat if necessary to prevent burning. Add bourbon and stir to deglaze bottom of pan until nearly evaporated, about 30 seconds. Transfer onions to a bowl until ready to assemble sliders.

Step 

5

Wipe out skillet and place over medium-high heat. Add 2 tablespoons reserved bacon fat, using olive oil as necessary if not enough bacon fat remains. When fat just begins to smoke, add steak. Sear until well caramelized and crusty on the underside, about 6 to 8 minutes. Flip, and continue cooking until steak is golden, about 4 to 6 minutes more; an instant-read thermometer stuck into the middle of steak should read 125° to 130° for medium-rare. Using a pair of tongs, hold one side of steak to the surface of the skillet, rolling back and forth as necessary to brown, about 1 ½ minutes. Repeat with the second side of steak.

Step 

6

Remove steak to a rack and let rest to allow juices to redistribute, 10 minutes. (If you prefer your steak room temperature, let rest up to 30 minutes.) Thinly slice against the grain. Taste a slice and season to taste with additional salt and pepper if necessary.

Step 

7

As steak rests, toast slider buns: Split buns in half. Place cast iron skillet back on the burner over medium-high heat. Add 1 tablespoon butter. When melted, add as many buns will fit, cut sides down. Toast until lightly golden, about 1 to 2 minutes. Repeat with remaining buns, replenishing butter as necessary between batches.

Step 

8

Assemble sliders: Spread blue cheese mixture on both sides of the slider buns. Add a basil leaf to the bottom halves of the buns. Break the bacon slices in half and divide among the buns, along with the steak, caramelized onions, and additional Treasure Cave® Crumbled Blue Cheese. Using toothpicks, finish each slider with a bun top and serve.